The amateur radio club at UCSD has existed, in various forms, continuously for almost as long as the university itself.
The campus opened in 1960, and in the fall of 1965 Michael Ransom AI6II (ex-WB6KMH) founded the club with John Gerhardt and borrowed the callsign of a radio operator at the Scripps Institution of Oceanography: WA6DOT.  Mike and John found an unused hallway in one of the Quonset huts in Camp Matthews and added Mike's wooden desk and Hallicrafters SX-111 and KnighKit T150.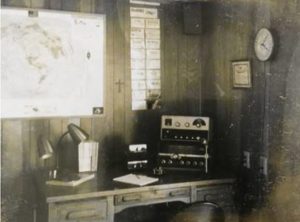 They also interacted with the West Coast Amateur Radio Service (WESCARS) on 40 meters and with UC Berkeley over a direct phone line.  In April 1968, the club was featured in the school newspaper.
The WWD Scripps radio station, run by "Ski" in the late '60s, relocated to the Nimitz Marine Facility on Pt. Loma, and when it was shut down circa 1995, the club salvaged some of the equipment, like that Transworld HF transceiver, VHF marine gear, and a damaged Kenwood TS440.  The club set up a shack on the roof of Atkinson Hall, where we run our current operations.